About the Founder: Edward Mooney, Jr.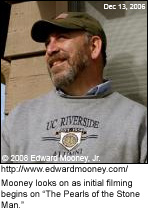 Prologue
Great ideas are often so simple that people look at them and say "why didn't I think of that?"
The idea behind Flag Detective was simple, help other people find out more about a flag they've seen flying somewhere. It could be down the street at Edward Mooney, Jr.'s home or it could be on the other end of the earth. Mooney, jumped to action conceiving of and creating Flag Detective in collaboration with Flags of The World project to create a website that would achieve his idea.
The end result, as seen here today, is an easy to use and very popular resource amongst Vexolligists, students and everyone in between. In addition to the ability to find your flag, Flag Detective's sponsor, United States Flag Store allows users to quickly and easily order the flags they've looked up!

A Man of Many Ideas

Edward Mooney, Jr. is a man that has many ideas and he follows through on them. From this website to his duties as a high school teacher for more than twenty years, Mooney has kept busy with his passions. A published author, Mooney's first book "The Pearls of the Stone Man" is being made into a movie by Fast Carrier Pictures.
The Japanese rights to "Pearls" was picked up by a Japanese publishing company and released the book two years after the American release. The sequel to "Pearls" entitled "The Journey of the Stone Man" is also available at your local bookstore with the third book in the Stone Man Trilogy, not yet titled, on its way to stores soon.

Mooney began his journey in Massachusetts and was raised in Tustin, California. After his graduation from Montana State University and the University of California at Riverside he worked as a systems programmer until he became a High School teacher in 1988.
Life has had many twists for Mooney, making him a stronger man along the way. On Christmas Day in 1985, he lost his wife. This was a time which he calls a high and low point in his life. "I believe God's presence and love touched my heart just after the loss of my wife," Mooney states on his personal website.
Mooney continues to teach high school at Quartz Hill H.S. and publishes weekly columns for the Antelope Valley Press.
For more information about Edward Mooney, Jr, his teaching career, his books and his movie visit EdwardMooney.com.
---
Copyright © 2008 Online Stores, Inc.
Content provided on this site for informational purposes only. You may use the information on this site for personal use only. Any reproduction of images, content, use of the Flag Detective name or any other use of this site is strictly prohibited unless granted permission by the copyright holder. Flag Detective does not claim to host all of the flags of the world on this site and while we strive to maintain an accurate and up to date database of world flags, occasionally some images may not be current. If you come across one of these images, please utizile the email address at the bottom of each page to report the error.