Cross flags have been flown on a variety of flags over the years and one thing to note is that there are several styles of crosses. For example, the Greek Cross as see in Diagram 1.1, is used on the flag of Switzerland, the Symmetric Cross as seen in Diagram 1.2 can be seen on the flag of England and finally the Scandinavian cross as seen in Diagram 1.3 can be seen on the flag of Finland.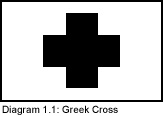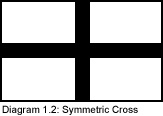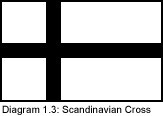 Flag Identification
Crosses On Other Flag Designs:

Alberta*
Canada
Christian Flag
Greece
Malta
Maryland*
USA
New Mexico*
USA
Panama
Switzerland
Tonga
Please note: Many flags incorporate the Union Jack as a canton and would thus have a cross on them as well. To view these flags, visit our Union Jack Canton page.
* Denotes semi-autonomous area.
** Denotes flag of the past.
*** Denotes ensign, or ship flag.
---
Copyright © 2008 Online Stores, Inc.
Content provided on this site for informational purposes only. You may use the information on this site for personal use only. Any reproduction of images, content, use of the Flag Detective name or any other use of this site is strictly prohibited unless granted permission by the copyright holder. Flag Detective does not claim to host all of the flags of the world on this site and while we strive to maintain an accurate and up to date database of world flags, occasionally some images may not be current. If you come across one of these images, please utizile the email address at the bottom of each page to report the error.